The Living Room
If you are interested in studying the Bible, contact Tim or Bob. They are looking to start a study with anyone interested. If you would like to meet them first, please feel free to e-mail them. Either person would be more than willing to meet you for coffee or hot cocoa and a chat.
Upcoming Events
Future Sunday's
6-11 Tim - Family Life series: Why can't we be friends?
6-18 Bob - Family Life series: An ode to Fathers
6-25 – The Humility of a Hero series: Jesus
---
Bible Study
Noon studies are held over the lunch hour, 12:00 PM Wednesday's at GamesXP. All are welcome to traverse through the book of Genesis.
---
Northern Lights Soccer League weekend!
A sure sign of summer is our annual soccer league. Again, it will primarily be for our kids and their friends, but, of course, everyone is welcome and wanted! Fire up your kids to invite their friends! It will all happen on the last weekend of June: June 23 – 25, ending with a BBQ and parents vs kids soccer match after church.
Anyone 5 - 15 years old can participate!!!
6/ 23 Friday

night:

6 - 8pm

- athletic assessments, drills, basics, keys to being a good sport talk
6/24 Saturday

:

9 - 3pm

- key skills to playing soccer well (training and practice), practice games, talks on living well off the field, lunch and drinks provided
6/25 Sunday

10:30 - 2:30

- LifeHouse Church service (The Humility of a Hero), BBQ, parents vs kids soccer match, awards presented
Only $10/ person (cost can be waived if prohibitive to participating)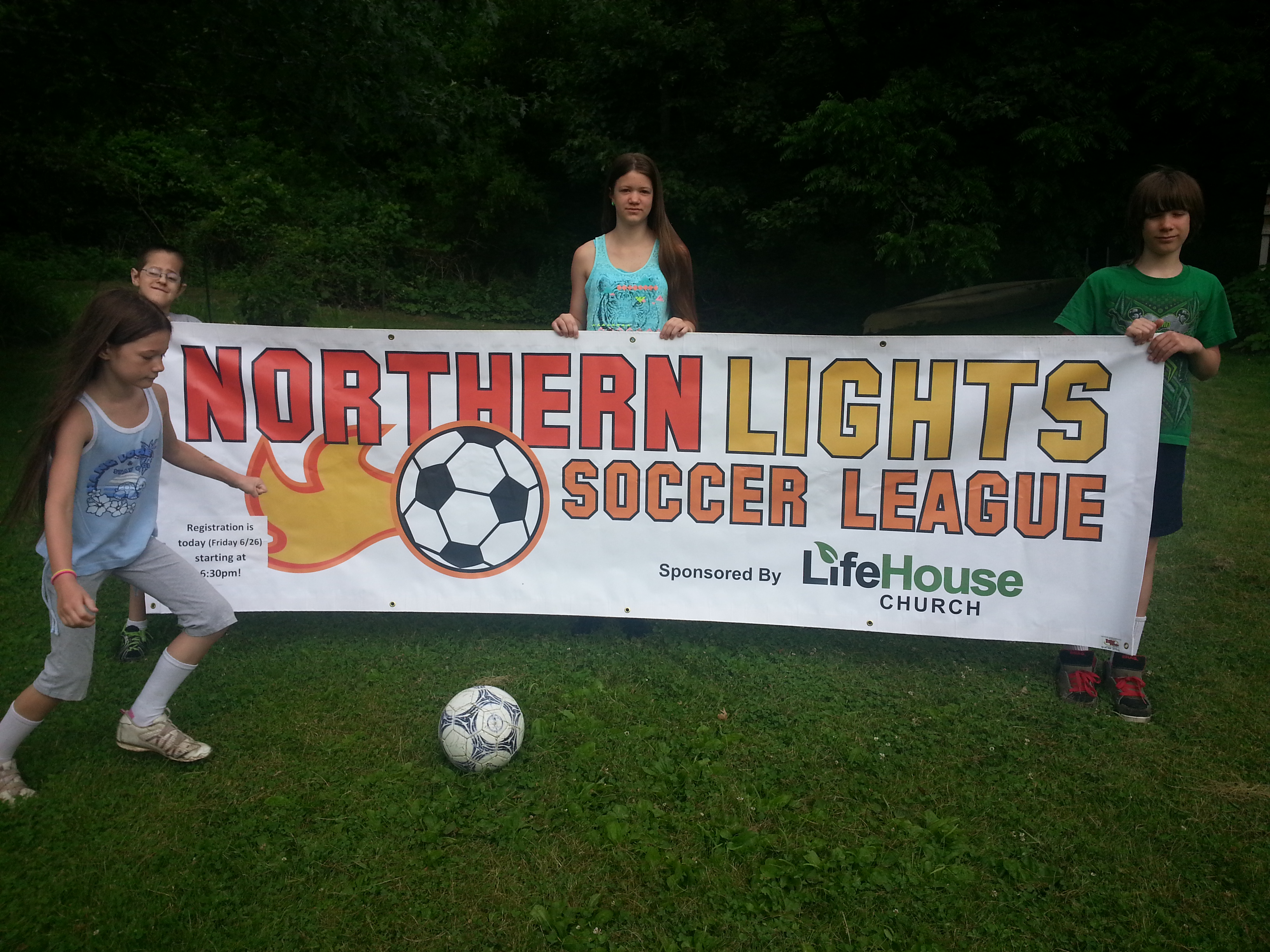 ---
FYI: GXP BBQs
Every Friday night, GamesXP, will be hosting a BBQ and ultimate Frisbee (or some other sport). Hot dogs, drinks and condiments are provided. If you want something else to share or for yourself, bring it. This is a great time to meet people and influence them for Christ.
---
Annual Winneshiek Medical Center Hospice ride and breakfast set for June 11
June 11, 2017, will be the annual Winneshiek Medical Center Hospice ride and breakfast, organized by community members supportive of hospice. Breakfast, including pancakes, sausage, eggs, pastries, etc., is hosted at the Spillville Inwood Ballroom from 9-11am. Free will donations accepted. All are welcome to attend. All proceeds go to support the mission of WMC Hospice to provide compassionate, hospice care in the communities of: Allamakee, Clayton, Chickasaw, Fayette, Howard and Winneshiek counties.
The ride begins and ends at the Inwood in Spillville. All bikes and cars are welcome to sign-in at 9 a.m. Ride cost is $15 per participant and proceeds will be donated to Winneshiek Medical Center Hospice.
For more information on the Annual Hospice Ride, contact Daryl Hinton at 563-423- 5564 or Renee Wagner at Main Street Mini Mart in Spillville at 563-562- 3017.
There are no upcoming events to display. Please check back soon!